Thursday, January 31, 2019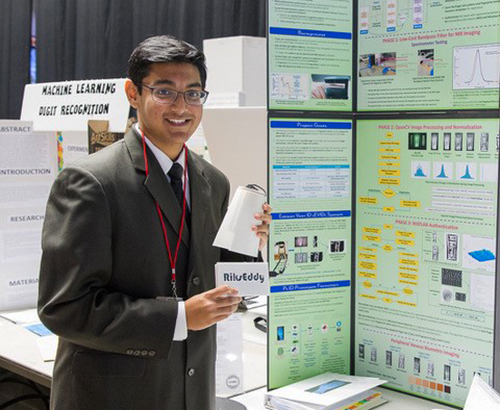 Ritik Patnaik, a Texas Academy of Mathematics and Science student, has been working with the colleges of Engineering and Health and Public Service to tackle issues of cybersecurity in a world where it's becoming more and more challenging to keep up with technology.
Patnaik, who's been named one of 300 Regeneron Scholars nationwide, has been creating a bimodal biometric system based on vein patterns and fingerprints that helps authenticate a person's identity. Biometric authentication is a process that uses pattern-recognition methods to match a person with their uniquely identifying patterns. An optical fingerprint scanner is what people more commonly find on their phones and other personal devices.
"I first got the idea as a rising sophomore when I attended an NSA-sponsored Gen-Cyber camp," said Patnaik. "Originally, I was more focused on medical applications and using the biometric technology to help identify patients who were unconscious, but I've since started shifting towards military applications."
Patnaik says there are three problems with using biometrics like faces and fingerprints for security: they can be fabricated, can be damaged and they can change with age. But these challenges can be mitigated by using finger vein patterns instead of or in addition to optical scanning.
"Unlike fingerprints, finger vein patterns don't change between the ages of 15 and 80 and are more difficult to fabricate, because they're underneath the skin," he said. "With my project, I'd initially started with the finger vein patterns, but when I came to UNT, I decided to add on the optical fingerprint scanner to make it bimodal."
Patnaik worked closely with College of Engineering Professor Kamesh Namuduri and his graduate students to program and evaluate his biometric system.
"Dr. Namuduri really helped me a lot with the evaluation of the prototype," said Patnaik. "I was able to work with his grad students from his lab to collect sample images of finger vein patterns to evaluate my algorithms."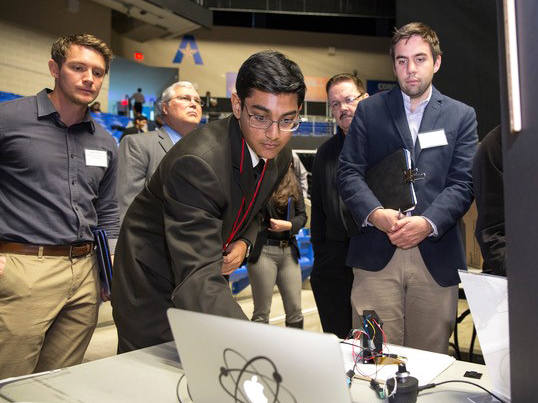 "This whole project has really been his initiative," said Namuduri. "Ritik came to me with this idea when he came to UNT and wanted to pursue it; it's a completely self-driven project."
Now with his prototype in tow, Patnaik is collaborating with Associate Professor Scott Belshaw in the College of Health and Public Service on commercializing the project.
"Dr. Belshaw is connecting me with people in the military and the cybersecurity industries so we can potentially license out my project for real-world use," said Patnaik.
"Working with Ritik and mentoring him has been a complete joy. Not only does he attain the knowledge to tackle real-world problems in research, but also has the communication skills to share those ideas in both technical and non-technical settings," said Belshaw.
Patnaik's initiative and passion for science and engineering stems from a supportive home and a lifelong interest in learning and understanding how things work.
"When the BP oil spill happened, I remember doing this project at home with my dad where we built bowls of water with aquatic plants and placed oil over the water; and over time, I could see how the plants were not able to survive because the oil was blocking the sunlight," he said.
"I have this curiosity-driven love for research," said Patnaik. "I like to call myself a maker, because I like the hands-on side of creating and making hardware but also the programming side."